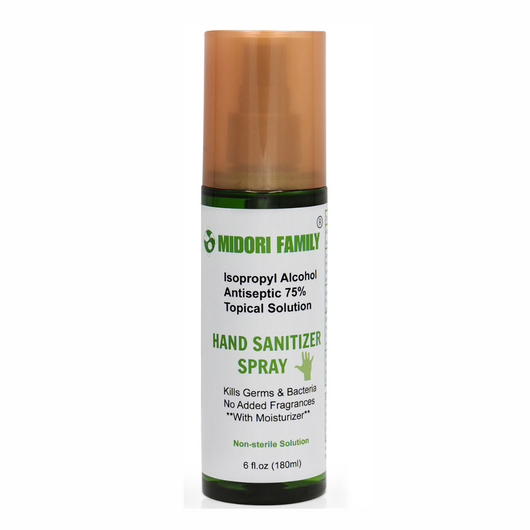 Hand Sanitizer Spray - 6oz
MIDORICIDE
This hand sanitizer liquid is manufactured in Full compliance with FDA in an ISO-13485-compliant manufacturing facility using high quality ingredients. 
Our Natural anti-microbial 75% Isopropyl alcohol based hand sanitizer contains only the approved moisturizer to keep your hands feeling soft and clean. Typically, raw alcohol generally leaves hands feeling dry and cracked after prolonged use. Our hand sanitizer provides a gentler effect on skin.
This quick drying formula helps reduce disease-causing bacteria or germs.  It is fragrance free and no rinse is required. 
        ✓ Meets New World Health Organization guidelines
        ✓ This hand sanitizer exceeds the CDC Recommendation
             of 70% alcohol
         ✓ 75% Isopropyl Alcohol - Kills 99.99% of germs
Portable for home, car or workplace.